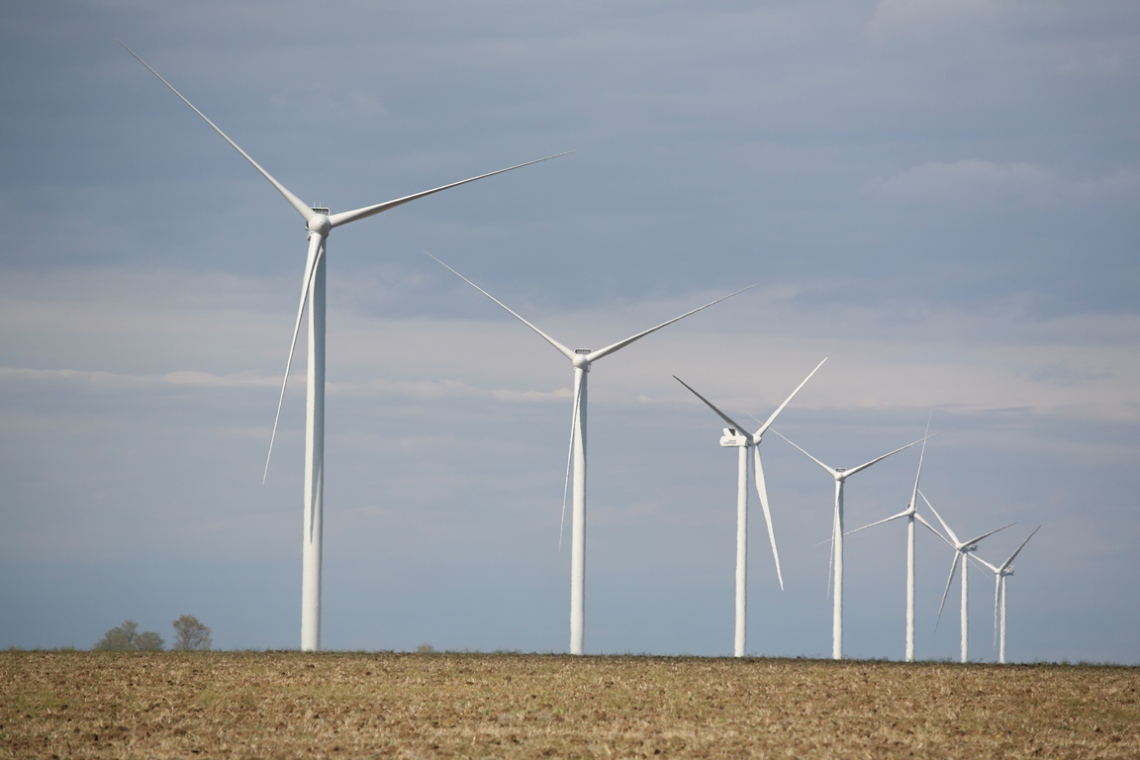 Source:Eurasia Network
Botievo Wind Farm, the largest in Ukraine with a 200 MW capacity, June 2013 –
Photo Credit : DTEK, Ukraine.
The state-owned bank Ukrgasbank has begun to finance the construction of the 70 MW Novotroitskaya wind power plant in the Kherson oblast, in Southern Ukraine.
The wind farm is expected to be completed by the end of 2017. The Novotroitskaya wind power plant will be the third largest installation of its kind in Ukraine. The largest plant of the country is the Botievo wind farm with a capacity of 200 MW.
Once completed, the Novotroitskaya wind power plant will supply with electricity the general power grid of the country.
The project is led by the group of companies "Vindkraft" ("Vindkraft Ukraina" and "Vindkraft Tavriya") which intends to build two wind farms in Novotroitske and Over'yanivka gathering 42 wind turbines with a total capacity of 140 MW.
Both companies are registered in Skadovsk, Kherson oblast.
Total investment in the project is estimated at € 220 million, which will be jointly funded by the state-owned Ukrgasbank, the companies "Vindkraft Ukraina" and "Vindkraft Tavriya" and international financial organizations, informed the bank in a press release.
The Director of the Department of Ecological Re-engineering and Implementation of Resource Saving Projects of "Ukrgasbank", Rodion Morozov, told journalists that the development of alternative energy sources is a very important step toward energy independence of Ukraine and economic expansion.
The Kherson Oblast State Administration supports the initiative.
The company "Vindkraft Ukraina" has been engaged since its foundation in 2009 in developing and investing in wind energy projects in Ukraine.
"Vindkraft Ukraina" and "Vindkraft Tavriya" own and operate since 2012 in the Kherson oblast several wind power plants with a total capacity of 30 MW : Novorossiyska WPP, Stavki WPP and Beregova WPP.
The current project will add 140MW to their wind power capacity.
The company's founders are the Swedish citizens Carl Sturen, Fredrik Svinhufvud, Mats Lundin and Johan Boden. They have gained experience and reputation in doing business in Ukraine in the development of wind energy. (Carl Sturen and Johan Boden are the co-founders of "Chumak", a well-known company founded in 1996 and producing food products).
Ukrainian authorities support the development of the renewable energy sources as an opportunity to increase the energy security of the country and revive the national economy after years of recession, provided necessary equipment is produced in Ukraine.
In July 2016, the wind power capacity in Ukraine amounted to 426 MW, the solar power capacity – 453 MW, the biomass power capacity – 31 MW and the hydro power capacity – 118 MW.