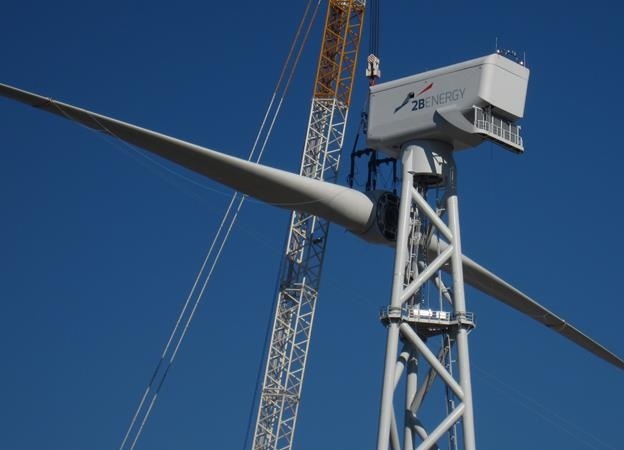 Source:reNEWS.biz
Dutch turbine outfit 2-B Energy has reported positive performance from its two-bladed 6MW downwind demonstration device in Eemshaven.
The company said "everything is working fine" on the 2B6 and that all systems are operating as intended following installation in autumn 2015.
2-B declined to provide specifics of performance at the demo, other than it has reached headline capacity. It said additional performance information would be released "soon".
The developer remains committed to a two-turbine demonstration project in the Firth of Forth off Methil with Scottish ministers continuing to consider an application.
2-B faces a 2018 deadline at the proposed installation to qualify for the 2.5 Renewables Obligation certificates promised by Holyrood for experimental wind.
The 2B6 is a pitch-controlled machines with 140.6-metre rotor diameter and a self-aligning soft yaw system.
The turbine nacelle sits on a lattice tower on the quayside at Eemshaven, while two will be installed offshore at Methil.